Youth Ministry
Do not let people disregard you because you are young, but be an example to all the believers in the way you speak and behave, and in your love, your faith and your purity.
1 Timothy 4:12
Ministry with and to young people takes place in many forms throughout the Archdiocese – in homes, schools, parishes, youth clubs, pilgrimages – anywhere people of faith recognise the gift of the Gospel and the gift of young people. The Archdiocese supports this ministry and develops opportunities for young people within the archdiocese and beyond through the Armagh Diocesan Youth Commission (ADYC).
The Armagh Diocesan Youth Commission (ADYC) was formed in the late 1990's as a response to the growing needs of young people in the Archdiocese and since the implementation of its first plan in 2003 has worked to the vision and mission statements below:
VISION
Our vision is of a Church in which young people, motivated by a personal faith in Christ, will feel accepted, valued and empowered to fully participate.
MISSION STATEMENT
Motivated by Christ, our mission is to work in partnership with young people, Church and interested agencies to ensure that young people are encouraged and affirmed on their journey of faith. Through leadership training, school, parish and diocesan initiatives, we seek to enrich the Christian community.
The five areas of development from 2007-2010 within the ADYC are: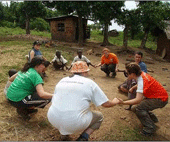 Communication
Faith Development in Parish and School
Gate Magazine
Leadership Development
Pilgrimages
The ADYC Strategic Plan is available here.
If you look through our plan and see something that interests you then contact:
Dermot Kelly
Diocesan Youth Director
Armagh Diocesan Youth Ministry
Archdiocese of Armagh
Cathedral Road
ARMAGH BT61 7QY
Northern Ireland+44 (028) 37523084
SO GO ON!!!
BE INSPIRED, BE A PART OF SOMETHING!!